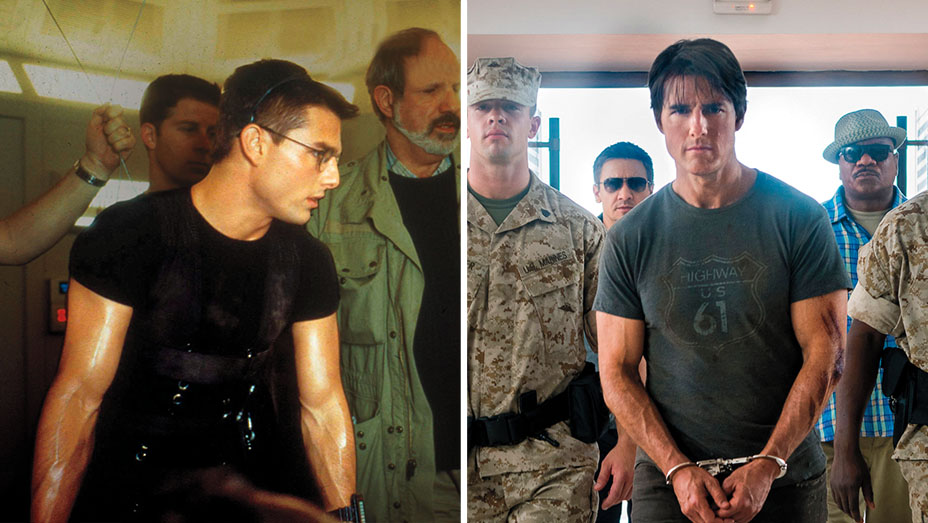 50-Year-Old Superheroes
New Challenges for Personal Trainers!
As action stars lead franchises into their second decades, top trainers sweat to keep actors ripped while providing knee- and back-friendly routines now that they "can't take the physical abuse."
With age comes wisdom, the saying goes. But survey Hollywood's growing crop of middle-aged action stars and you'll likely conclude that age also brings huge pecs and massive delts. As franchises Mission: Impossible (which debuted in 1996), The Fast and the Furious (2001) and Iron Man and the Marvel universe it spawned (2008) continue to churn out sequels, their stars Tom Cruise, 55, Vin Diesel, 50, and Robert Downey Jr., 52, have to look as ripped as they did when they took the roles 10, 15 or even 20 years ago. Often more so. Because even as the stars age, body standards for action heroes are getting more extreme.
"Historically, the ideal superhero or action star was constructed around a sturdy build and a ruggedly handsome face," says Dr. Philip Goglia, the nutritionist behind Chris Pratt's miraculous transformation for Guardians of the Galaxy (the third installment won't arrive until at least 2020, when Pratt will be 42). "Each year the stakes are raised," says Goglia. And because vets like Cruise, who is in preproduction on the Top Gun sequel and was also recently injured on the set of Mission: Impossible 6, and Hugh Jackman, 48, who just ended his 17-year, nine-film run as the shredded Wolverine, have proved it's possible to remain ripped over the course of a long franchise, even mature stars first stepping into these roles are expected to look jacked.
Compare the physical demands placed on the rumor-plagued Ben Affleck, 44, for Batman v. Superman and the upcoming Justice League, with Bat predecessors Michael Keaton, George Clooney and Christian Bale. Director Zack Snyder asked for the biggest, strongest Batman yet, says Affleck's trainer Walter Norton Jr.: "He wanted a physically imposing heavyweight MMA fighter, and the people who designed the batsuit modeled it after Arnold Schwarzenegger." After the 6-foot-4 Affleck dropped down to 198 pounds and 6.8 percent body fat for 2010's The Town, Norton had to get him up to 225 pounds to play Batman two years later. "You realize how insanely high the bar has been raised," says the Boston-based trainer.
No one is more responsible for setting (then raising) that bar over the life of a single franchise than Sylvester Stallone, 71."I think Rocky changed the game," says L.A.-based trainer Gunnar Peterson, who has worked with Stallone on and off for almost three decades. "All the way through the Expendables movies, Stallone is the older dog in the fight, and he puts himself under more pressure than anyone."
Peterson credits Dwayne Johnson, 42, for sparking the current arms (and shoulders) race among the aging action set. "He puts the pressure on the superheroes — you better step up." That means the real heroes of these franchises are the trainers tasked with pounding their stars into peak form every two years.
Denise Snyder, who has trained Keanu Reeves, 52, from 1999's The Matrix through John Wick: Chapter 2, says actors older than 50 who have done a lot of physical roles come with "a certain amount of wear and tear — these guys have had a stuntman's life. Keanu has had knee, shoulder and back injuries, which add up." John Wick director and former stuntman Chad Stahelski says fight training can be amended: "In Matrix, you see Keanu doing splits, kicking, jumping, using wires; in John Wick, because now we have gotten older and can't take the physical abuse, we have modified the chorography to less punching and kicking and more contact stuff, more flips and throws and rolling around."
"While muscle mass does tend to decrease with age, a condition known as sarcopenia, the rate is quite small, less than 1 percent per year," says David Kingsbury, who has trained Hugh Jackman for the past five years, including getting him prepped for Logan. "Age is often given as an excuse, but a fit 65-year-old can easily outperform a lazy 25-year-old."
Stahelski says the biggest difference between a 25-year-old and a 45-year-old is recovery time. "The 25-year-old will recoup faster, so you can push him harder; your training arc becomes shorter." Paul Vincent, M.S., co-founder of Santa Monica's Altus Health, which has trained the stars of several Mission: Impossible, Star Trek and Star Wars films says older clients "have to regain function of their joints with low-impact exercises, stretching, cold therapy and deep-tissue massage guns, then I can load them in the same way as a 20-year-old." (Substances like growth hormone may also help, says Peterson: "Is there steroid use in Hollywood? Just by sheer numbers, my bet would be yes. Everyone is looking for an edge.")
It can also bring stubbornness. "The [older] guys can be set in their ways, thinking the way they've always trained is the right way," says Vincent, "so new stuff takes a bit of adapting." According to Luke Zocchi, who trains the relatively spry Chris Hemsworth, 33, "the younger guys are into more [diverse] training using gymnastics, calisthenics, rings and battle ropes, which give you that athletic look as opposed to looking like a body builder." Netflix's Iron Fist star Finn Jones, 29, agrees. "I didn't want to be this hulk-like slab of muscle. I wanted to be toned and healthy, but still agile and nimble."
Why does it seem as if some older stars get bulkier with every sequel? Stuntman and trainer Duffy Gaver says that physiologically, it's only natural, and that "a simple way for any man in his 40s or 50s to look healthier is to carry a bit more muscle mass." And maturity has some advantages in the battle of the bulk, says Stahelski, noting it can bring "dedication, fortitude — and the will to stay on the diet."